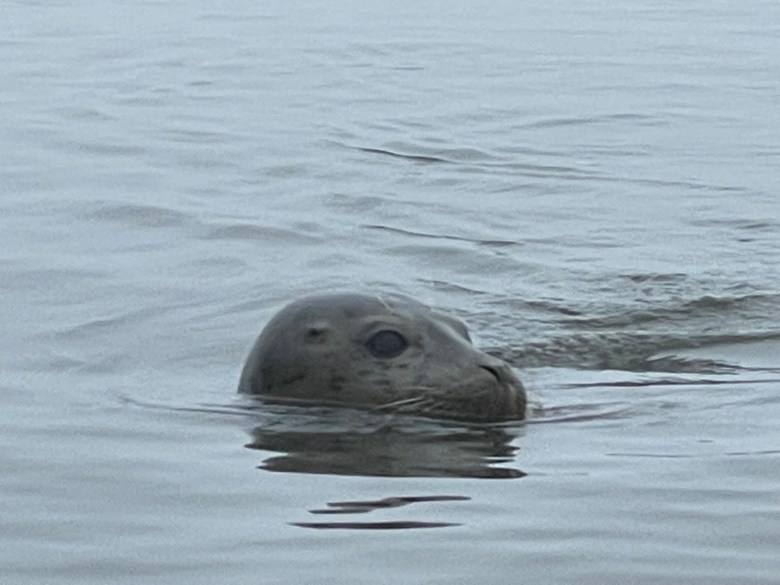 Patrick Landewee has a lonely job. He keeps a lighthouse on the Hudson River about 200 miles north of NYC. One of the oddities Patrick has discovered is the repeated visit of Harbor Seal #246. This seal has become not only Patrick's hobby, but something of novelty for the recreational folks on the river and around New England. The male seal, which authorities believe was abandoned as a pup by its mother, was first discovered shortly after its birth on Lower Goose Island, Harpswell, Maine, in 2018. He was rescued and GPS tagged in Connecticut in 2019. There's something about the water near the Saugerties Lighthouse that Harbor Seal #246 really likes. The seal was spotted swimming in the Hudson on Jan. 1 by two kayakers on the river. This salt water mammal seems to have made the fresh river waters around Saugerties its home. "It is a story like none we have ever heard of … a marine mammal showing such extended affinity and fidelity to freshwater," Tom Lake, state Conservationist, said in an email Monday. Then, on April 24, 2021, which officials believe was the seal's third birthday the seal mysteriously disappeared. Then, on Aug. 25 — 123 days after he disappeared — the seal reappeared in the waters near Saugerties. Officials learned that during the absence, Harbor Seal #246 traveled down to Long Island's Atlantic Beach where it was picked up by the New York Marine Rescue Center. The seal remained at the rescue center for about two months, where they say it was treated for an infection and seal pox. "As of New Year's Day … Harbor Seal #246 found came back home in the Hudson River around Parick's lighthouse. Lake wrote, "As far as we can tell, this is unprecedented, in particular for the Hudson River. The seal presently seems very healthy and continues to enjoy the freshwater and the forage it provides."
Coming home humor
Three blond friends stranded on a deserted island find a magic lamp. Inside it is a genie
who agrees to grant each friend one wish.
"I want to go home," says the first friend. The genie grants her wish.
"I want to go home, too," says the second friend. And the genie sends her back home.
"I'm lonely," says the third friend. "I sure wish my friends were back here."
A dyslexic couple have their minds read and go home afraid for their lives!
What do they expect after visiting a psychotic.
A baby mosquito is coming home from his first flying lesson
Son, you did good?
Terrific! Everyone clapped
My wife was coming home with two big, heavy grocery bags, I shouted, "Hold on, honey,
You don't have to carry both bags."
Then I added: "Why don't you make two trips?"
January 11th Birthdays
1988 – L'Esperance quintuplets, 1977 – Amanda Peet, 1971 – Mary Blige, 1980 – Deanna Wright
1757 – Alexander Hamilton, 1842 – William James, 1989 – Jedidiah Goodacre, 1923 – Carroll Shelby
Morning Motivator:
Live

today. Not yesterday. Inhabit your moments.