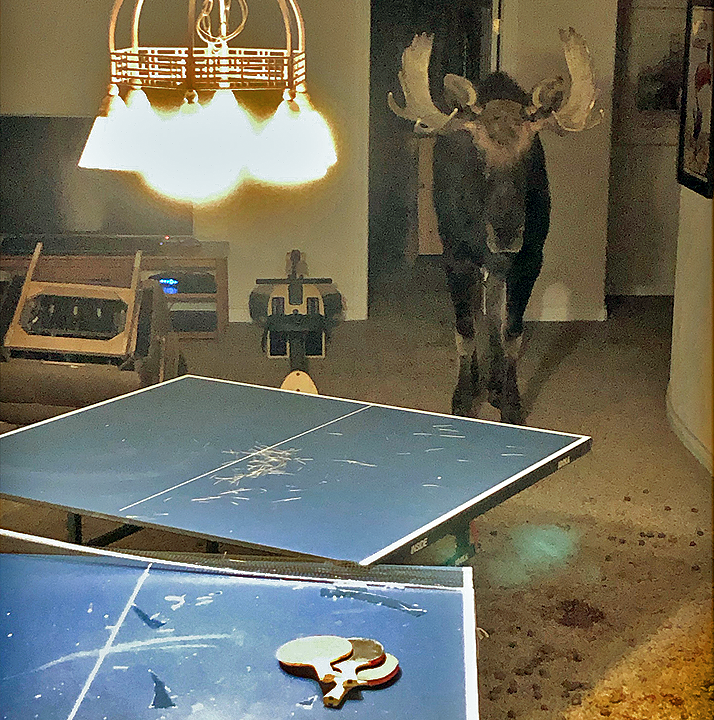 Colorado Parks and Wildlife officers were called to a rural house around Breckenridge, CO. The complaint was a moose in the basement rec room. As they looked around the house, they saw it had a basement entry way that was full of snow and a glass storm door that was smashed in. They surmised the moose that was grazing on the willow bushes around the sunken entrance and the stairway was snow covered. Taking a step on the drifted snow, the moose fell down a six- to seven-foot window well into a homeowner's basement, becoming trapped. Responding wildlife officers found the moose was standing up in the middle of the basement and opened doors to create exits for the moose. However, they could not get the moose to leave because it required going up a staircase to reach the exits. Officers eventually tranquilized the moose and cut off its antlers so that it could fit up the home's stairwell. According to the release, moose antlers typically shed, or fall off, at this time of year, and the moose will grow new antlers in the spring. Crews from the Breckenridge Police Department, Blue River Police Department, and Red, White and Blue Fire Protection District helped wildlife officers carry the moose upstairs and outside, where it was relocated to a moose habitat. Some furniture and recreational equipment were damaged in addition to the glass door.
Muse on the loose
I told my niece that I saw a moose on the way to work this morning.
She said, "How do you know he was on his way to work?"
I hope I see some moose in Canada
My hair is a mess.
Trump and Pence go hunting.
As they're walking through the woods, they come upon an elk foraging on leaves.
"Hey look, an elk," says Pence.
"That's Fake moose," says Trump.
Why did the Chinese government confiscate all deer legs?
Mistook them for moose limbs.
January 14th Birthdays
1967 – Emily Watson, 1967 – Kerri Green, 1998 – Isabella Souza, 1990 – Emma Greenwell
1990 – Grant Gustin, 1970 – Jason Bateman, 1949 – Carl Weathers, 1994 – Samir Patel
Morning Motivator:
Vision is not enough, it must be combined with venture.