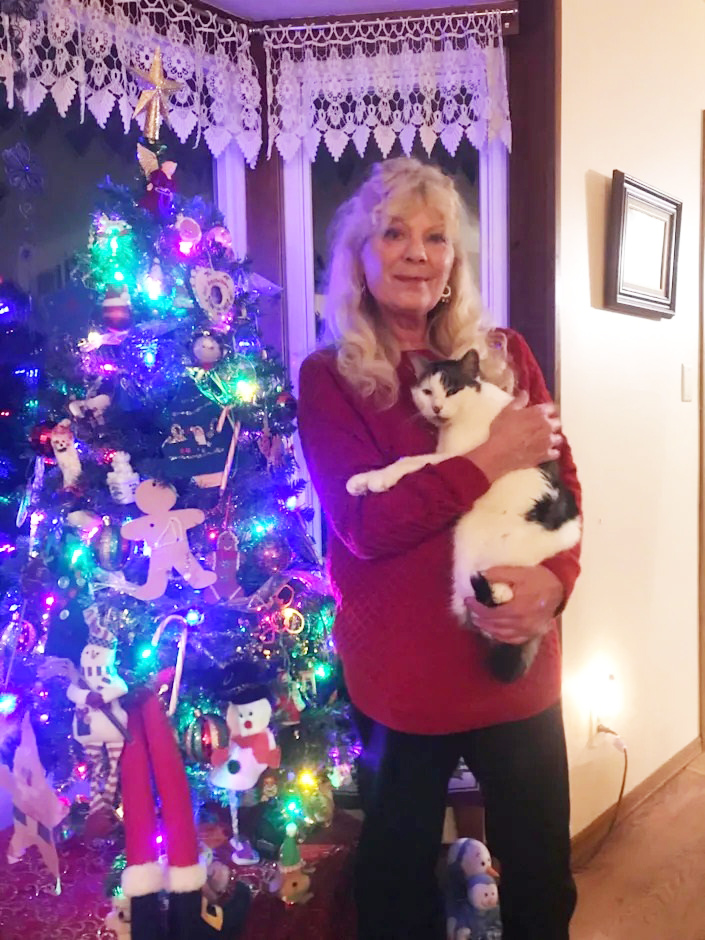 Debbie Auer was distraught but relentless. Her cat, creatively named, "Kitty" was gone and the house was empty without her constant companion. Kitty is a 9½-year-old, male, calico, black and white the couple rescued from the Wisconsin Humane Society. The Auer's still don't know how it happened. Kitty had never before left the house. Debbie Auer said her husband was up North on Oct. 22 and she had left the house to babysit her grandchildren. When she got home Kitty wasn't there. Frank Auer said they made laminated flyers and "plastered (them) all over." "We really threw our lives into it," he said. Debbie went out every night for two months in search of Kitty trying to rebuild their household. Debbie Auer grabbed her big blue cloth "cat patrol bag" every night for two months to wander the streets of South Milwaukee around midnight looking for her lost cat, Kitty. Hand warmers, cat treats, extra gloves and a can of pepper spray from her husband, Frank, filled the bag. Auer said cats often were most mobile at night, so she'd search for a few hours and then go home to get some broken sleep. Debbie said "it was scary" going out so late, but she never missed a night. Sometimes she'd even go out again the next morning. Frank Auer said after a few weeks he was losing hope. "I was ready to bail on this, but Deb wouldn't," he said. "She and other cat fans were emphatic about not giving up." After neighbors reported Kitty sightings, carrier in one hand and fresh tuna in the other, Debbie Auer set up the carrier with the tuna inside and hid nearby. Kitty entered the carrier and the door was "tripped" and he was caught. "(Kitty) lost a lot of weight and he has to readjust," Debbie Auer said. "We took him to the vet right away and he was OK, thank goodness. We're still getting him to gain weight. I just hope he never gets out again."
Lost humor
My teenage son lost a contact lens while playing basketball in the driveway. After a brief, fruitless search, he gave up. His mother took up the cause and within minutes found the lens. "How did you do it?" he asked.
"We weren't looking for the same thing," she explained. "You were looking for a piece of plastic. I was looking for $150."
When I lost my rifle, the Army charged me $85.
That's why in the Navy, the captain goes down with the ship.
Since I lost weight, I've stopped giving money to the homeless.
Now I am Lean and mean.
A man saw a good deal and bought 20 panties of the same pattern and color for his wife.
Wife: "Oh My, No, now people will think I never change my panties."
Husband: "Which people?"
January 6th Birthdays
1984 – Kate McKinnon, 1971 – Ree Drummond, 1996 – Courtney Eaton, 1965 – Hillaria Thomas Baldwin
1960 – Howie Long, 1955 – Rowan Atkinson, 1982 – Eddy Remayne, 1914 – Danny Thomas
Morning Motivator:
Do more than belong: Participate. Do more than dream: Work.