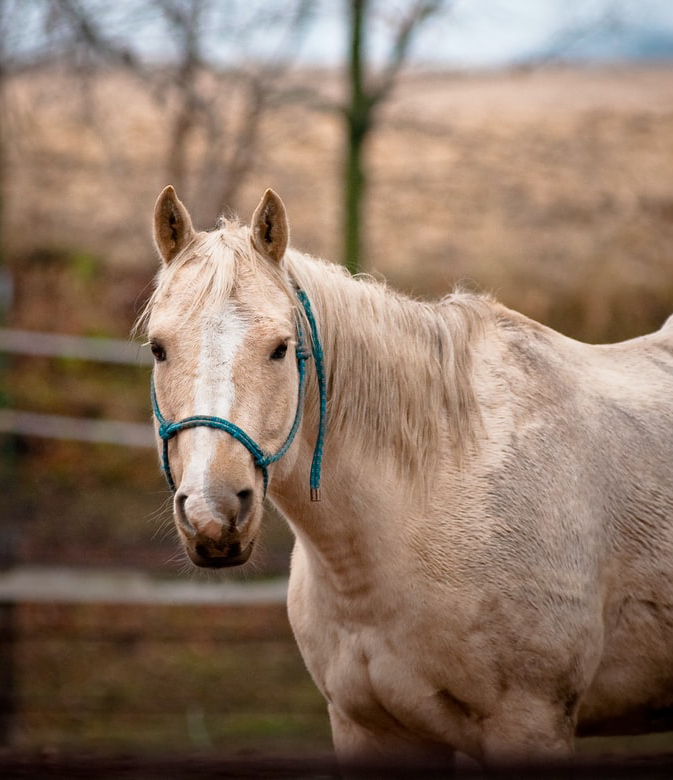 There was a horse running around the parking lots of a Centennial, CO apartment complex. The folks were out yelling at the horse and trying to hold it, but there was no saddle, stirrups or bridle on the horse. Some of the neighbors were holding out carrots to entice him, but the animal was so agitated it was just pacing up and down the rows. Deputy Ian Sebold says the horse was terrified by the time he got to the scene. It's a fitting coincidence that Sebold not only was raised on a ranch, but also is training for the Arapahoe Mounted Unit, which patrols on horseback. He says the Army taught him how to do things "on the fly," which also proved handy. "I saw the horse crossing the road, and it's a four-lane major roadway. I could tell he was terrified," Sebold said. "A citizen was walking nearby, trying to stop traffic to allow him to get across. You could see in his face, he didn't know what to do on a major roadway. He just wanted to go home, but didn't know how to get there." "With no trailer to take him home, the simplest idea was to ride him back," Sebold said. "There was no saddle, but I got a boost — old school way — and hopped on. To me, the biggest question was how to get this horse safely out of a major residential area. We were not walking those 2.6 miles." The other deputies provided a police escort, blocking traffic until the horse made it through intersections, including one highway with a 55-mph speed limit. Sebold says it was sunset before they reached the horse's pasture, with the owners trailing behind in a vehicle. The horse had been running free as long as four hours, and it was exhausted, he said.
Horsing around
100 years ago everyone owned horses
And only the rich owned cars
Now everyone has a car and only the rich own horses
How the stables have turned.
You are on a horse, galloping at a constant speed. On your right side is a sharp drop off, and on your left side is an elephant traveling at the same speed as you. Directly in front of you is another galloping horse but your horse is unable to overtake it. Behind you is a lion running at the same speed as you and the horse in front of you. What must you do to safely get out of this highly dangerous situation? Cowboy, get your drunk ass off the merry-go-round!
There are more horses' asses in this world than there are horses.
According to Greek Mythology, Chiron was a half-human, half-horse doctor.
This made him the Centaur for Disease Control.
January 17th Birthdays
1922 – Betty White , 1981 – Zooey Deschannel, 1991 – Willa Fitzgerald, 1983 – Lucy Boynton
1958 – Steve Harvey, 1931 – James Earl Jones, 1963 – Jim Carey, 1981 – Dwayne Wade
Morning Motivator:
The only way to do great work is to love what you do.