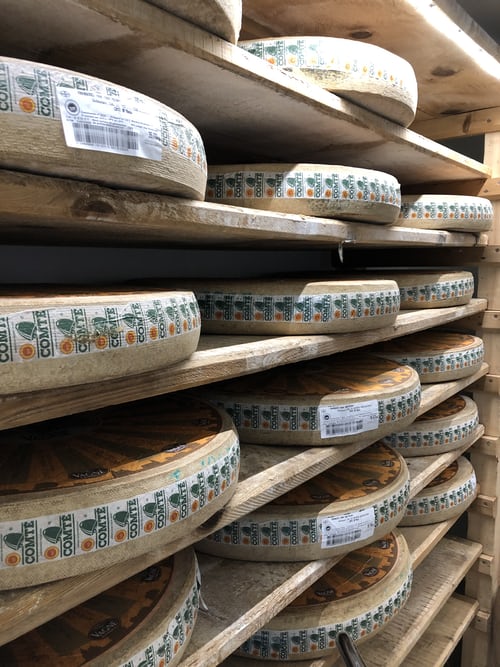 On the face of it, Camembert doesn't seem like an endangered species. Three hundred and sixty million wheels are produced annually in France. If you're a connoisseur of the cheese spelled with just two e's, then you're looking for a wheel made to the exacting specifications that allow it to be stamped "PDO" the French label that signifies provenance from a specific region in France, made in an historically accurate way. That cheese is called Camembert de Normandie, and its increasing scarcity means we're keeping our eyes glued to its curd. You should be cautious, American knockoffs spell the fake cheese with 3 "e's." A PDO Camembert de Normandie must be made with unfiltered raw milk with a fat content of at least 38 percent that comes from cows from France's northern Normandy province, fed under strict conditions. After a year long "Camembert war," the small guy came out on top: The French government ruled that only raw milk could be used for an official PDO Camembert. The bigger producers dropped out of the true Camembert race. They still make a pasteurized knock off version, but it's a poor substitute—with the impenetrable rind and soft, rubbery plastic center.
The French aren't the only ones going nuts over real cheese. A British cheesemaker has offered a cheesy reward for the recovery of prize-winning cheddar stolen from an agricultural show in South-west England. The award-winning cheddar and the reserve champion wheels, each weighing 44 pounds, were allegedly stolen on Saturday after being left in a display not far from the village of Cheddar, after which the world-renowned cheese is named. "Such a quantity of prize-winning cheese would retail around $900, but with their prize certificates, they could be worth thousands. Prize-winning cheese, along with a certificate like this would be very famous all around the world." Staff at Wyke Farms, were devastated over the missing cheese and feared whoever took it could try to ship it abroad.
Bacterial Humor
President Biden just banned shredded cheeses.
He wants to Make America Grate Again
What do you call it when someone inhales cheese?
Brie-thing
Which cheese is the smartest?
Cheese Whiz.
Sweet dreams are made of cheese.
Who am I to dissabrie?
January 7th Birthdays
1993 – Olympia Valance, 1891 – Zora Neal Hurston, 1982 – Lauren Cohan, 1988 – Haley Bennett
1997 – Lamar Jackson, 1964 – Nicolas Cage, 1971 – Jeremy Renner, 1963 – Rand Paul
Morning Motivator:
"What the mind can conceive and believe, it can achieve."