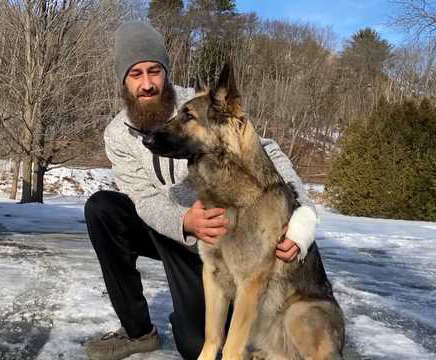 When New Hampshire State Police responded to a report of a loose canine on the Veteran's Memorial Bridge located on Interstate 89 at the New Hampshire-Vermont boarder in Lebanon, little did they know it would lead to something totally different. "A dog is a man's best friend," is surely not an understatement. The cops located the German Shepard, later identified as "Tinsley," and wanted to get close to her. However, the animal "continued to run northbound on Interstate 89, crossing into Vermont." They followed the four-legged hero, who led them to a spot with a damaged guardrail. "They could tell the dog was trying to show them something because she kept trying to get away from them but didn't run away totally." "It was kind of, 'Follow me. Follow me'," the cop added saying they were left in disbelief seeing the crash site. "I kind of compare it to, for those who remember, a real-life 'Lassie' story, where the people are in distress and the dog goes and gets help and brings them right to where the person is," the officer added. To their shock, the officers found a badly damaged pickup truck that had rolled over. "As the Officers investigated further, they realized that both occupants of the pickup truck had been ejected from the vehicle and were hypothermic and seriously injured." One of the injured men in the crash was Cam Laundry, who was later identified as the drunk driver and Tinsley's owner. "She's my little guardian angel you know," Laundry told NBC 5. "It's a miracle that she had that kind of intelligence to do what she did." On release from the hospital, Laundry said he was very thankful the outcome wasn't worse for him or his passenger.
Influenced driving
A cop pulls over a car in the middle of the night:
Sir, do you realize how badly your car was swerving between lanes?
I've had 8 drinks, officer.
That's no excuse to let your wife drive…
A man driving home from the bar gets pulled over by a police officer.
Officer: "Do you know why I pulled you over?"
Driver: "I'm guessing you think I was drunk driving."
Officer: "Tell you what, my shift is ending so if you can spell the alphabet backwards, I'll let you go."
Driver: (very quickly) "ZYXWVUTSRQPONMLKJIHGFEDCBA."
Officer: "Wow, I couldn't do that sober."
Driver: "Me neither."
A doctor tells a woman she can no longer touch anything alcoholic. So she gets a divorce.
I used to drink all brands of beer. Now, I am older Budweiser!
January 13th Birthdays
1995 – Natalia Dyer, 1979 – Jill Wagner, 1951 – Julia Louis-Dreyfus, 1964 Penelope Ann Miller
1990 – Liam Hemsworth, 1966 – Patrick Dempsey, 1977 – Orlando Bloom, 1962 – Trace Adkins
Morning Motivator:
Know in your heart that all things are possible.