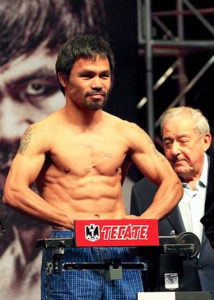 Manny Pacquiao is a world champion boxer, a senator of the Philippines, and one of the highest-paid athletes in the world. Growing up in poverty in the Philippines, Pacquiao often slept on cardboard boxes and would forgo school for work to help his mother make ends meet. The future professional boxer was also raised to be very religious; his mom originally wanted him to become a priest. Pacquiao paid out of his pocket for 1,000 homes to be built for the poor in his home country. "I'm so happy giving these houses free to my constituents more than a thousand families are the beneficiaries," he wrote on Facebook. While he completes his six-year term as senator, he plans on financing even more homes for people in poverty. "I feel what they're feeling because I've been there. I've slept in the street. That was my life before. So hard. That's why I feel what they're feeling right now."
Them's fightin' words
When I was a boxer, they called me "The Artist"
because I spent most of my time on the canvas.
I heard the professional boxers are among the highest paid people in the world
Apparently, my bosses at Amazon didn't get the memo
Why do MMA fighters wear skintight shorts?
Cause otherwise, they'd be boxers!!!
I'm actually the second best fighter In the world.
I know, because I've been in hundreds of fights – and came in second in each of those.
October 14th Birthdays
1998 – Ariela Barer, 1989 – Mia Wasikowski, 1992 – Esra Bilgic, 1985 – Sherlyn
1960 – John Seda, 1988 – Max Theriot, 1999 – Ben Wilshaw, 1980 – Ben Whishaw
Morning Motivator
Sometimes the best helping hand you can get is a good, firm shove.
I did not expect that