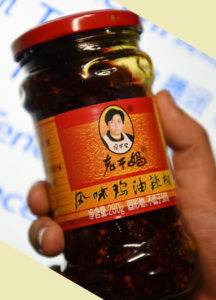 Monday, a newly published verdict revealed that a Chinese court would freeze over US $2.3 million worth of assets belonging to Lao Gan Ma. Tencent told Chinese media outlets that it sued the condiment manufacturer for failing to pay outstanding advertising fees. China's beloved chili sauce, Lao Gan Ma sells hundreds of millions of dollars worth of chili sauce around the world. Three people claiming to be Lao Gan Ma officers signed an agreement to market the sauce and get the secret numbers that would be part of the promotion. When Tencent, the owner of We Chat (the world's largest social media company), sued Lao, Lao said it had never signed a marketing agreement with Tencent. They referred the case to the police. It turns out that the 3 suspects were eyeing the free gifts that came with Tencent's marketing campaign — digital codes that can be redeemed for virtual items in online games. They were arrested. Officers said the accused impersonators wanted to sell these codes for profit. Lao Gan Ma (old grandmother) sauce was safe.
Ancient Chinese humor
I just love Chinese food; my favorite dish is number 27.
I ordered Chinese food yesterday. A small Chinese delivery driver comes to the door, so I walked out to meet him. He started shouting "isolate, isolate." I said no you're not I only ordered 20 minutes ago!
First, we discovered TikTok was a Chinese spying app, then we discovered China was putting spyware in the electronics they sell us…And today the fortune cookie in my Chinese food reminded me I needed to buy milk.
After finishing our Chinese food, my husband and I cracked open our fortune cookies. Mine read, "Be quiet for a little while." His read, "Talk while you have a chance."
October 20th Birthdays
1984 – Alona Tol, 1986 – Jennifer Freeman, 1970 – Michelle Malkin
1980 – Joh Krasinski, 1931 – Micky Mantle, 1969 – Viggo Mortensen
Morning Motivator
Wisdom has two parts:    1) Having a lot to say.    2) Not saying it.
Show me the contest