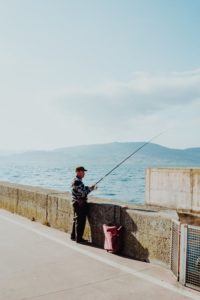 A Florida fisherman got quite the catch Tuesday. He was fishing off the St. John's County Pier about 6 p.m. when an amazing sight popped up right at the spot he threw his line. Amazingly, a naked woman swam over to his line, cursed at him, bit the fishing line and swam away with the rigging. The fisherman told deputies that Alexandria Turner, 22, appeared to be intoxicated when she swam up to his fishing line. When Alexandria was hailed to come out of the water asked to come to the pier office, she reportedly became belligerent and refused to walk inside. Turner then started upsetting the "sense of public norm at the pier" when police tried to take her into protective custody, officials said. Turner refused to let deputies handcuff her and screamed, "I'm f—— naked!" several times, the report said. She was later arrested for disorderly intoxication and resisting arrest. How's that for a fish story?
Fishy Humor
Two blondes in Las Vegas were sitting on a bench looking up at the sky, talking at night … and one blonde says to the other, "Which do you think is farther away … Florida or the moon?"
The second blonde turns and says "Hellooooooo, can you see Florida from here?"
Everyone criticizes Apple Maps, but I enjoyed using it for my road trip from New York to Florida. There's a lot to do in Chicago.
I went to this restaurant on the beach in Florida and ordered something called the Pelican Burger.
It was good, but the bill was enormous.
The state of Florida is a navigational anomaly…
The further north you go the more Southern it gets.
October 9th Birthdays
1970 – Anika Sorenstam, 1994 – Jodelle Ferland, 1952 – Sharon Osbourne
1958 – Mike Singletary, 1997 – Jacob Batalon, 1953 – Brandon Routh, 1993 – Tyler James Williams
Morning Motivator

If a man does not know what port he is steering for, no wind is favorable to him.
I think I have a live one