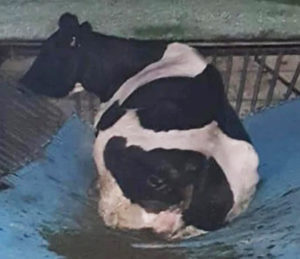 Kay Laing was sleeping when around 2:30am a truck driver came upon a herd of cows blocking the road in front of her house. Since there seemed to be cows all over all the lawns in the neighborhood the driver knocked on the door and asked Kay to notify the police. When Kay checked her backyard, she found one of the wandering cows was stuck on her family trampoline. "I rang up the neighbor and said, 'Oh gee, sorry David, there's a cow stuck on the tramp. I'm not kidding you. It's really on the tramp'," Laing said. David used a tractor to carefully lift the animal off the trampoline and contacted the cow's owner. "She was just fine, we lifted her off and then she walked home, maybe a mile. "We were back in bed by 3.30am." Just another night in Australia.
"Spring in your step" humor
I just joined the mile-high club.
Very few people are that skilled on a trampoline.
I put my foot through a trampoline last week…
I've had a spring in my step ever since.
I just replaced our bed with a trampoline
My wife hit the roof
What time of the year do big girls jump on trampolines??
Spring break.
October 19th Birthdays
1999 – Katie Douglas, 1994 – Hunter King, 1983 – Gillian Jacobs
1963 – Evander Holyfield, 1977 – Jon Favreau, 1945 – John Lithgow
Morning Motivator
Do you love life? Then do not squander time, for that is the stuff life is made of.
Bovine get away