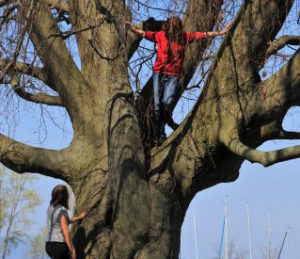 Wednesday around 2 p.m., when Roody Thomas' mother called the police to his home. Thomas was threatening her with violence, on top of having an outstanding warrant for punching his girlfriend. When the cops arrived at the house, Thomas wasn't about to surrender without a fight. But instead of attacking the officers, he opted for a battle of perseverance. The man initially climbed up onto the roof of his house. As the cops tried to get him to come down, he moved over to the nearby tall tree growing in his yard and nimbly climbed up the branches. Once he'd found a comfortable spot, he refused to come down. If the cops tried to force him down, he threatened he would jump and plunge dozens of feet to his likely death. "My name is Roody Thomas… I currently have a lawsuit against an NYPD, DOC at Rikers Island," he reportedly shouted from the tree. And so, the game was on. As unusual as the Thomas' tree-climbing stunt is, it's not the first time he's impersonated a squirrel. According to his neighbors, the man is mentally unstable and needs help. "Before, he's been up there about three or four days at a time. This is only the first time that the police have actually been called," one neighbor said.
Branch entertainment
A man calls a mental institution and asks the woman behind the desk to speak to the man in room twenty-seven.
When she tells him that the man isn't there he shouts excitedly "Good! That means I have escaped!"
How do you easily fill out your ancestry family tree?
Post on social media that you won the lottery.
I was once walking through the forest alone. A tree fell right in front of me — and I didn't hear it.
I saw a Canadian Dollar outside of a container.
Looks like it just escaped the loonie bin.
October 15th Birthdays
1942 – Penny Marshall, 1981 – Keyshia Cole, 1969 – Paige Davis, 1969 – Vanessa Marcil
1996 – William Brent, 1996 – Billy Unger, 1959 – Emeril Lagasse, 1974 – Paul Logan
Morning Motivator:
"Whether You Think You Can or Can't, You're Right"–Henry Ford