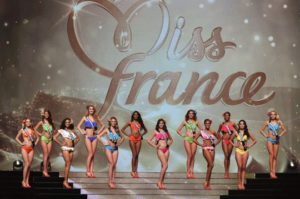 Three former "Miss France" candidates are suing the beauty pageant for alleged discrimination by selecting contestants based on their appearance, talent and personality. The women, who remain anonymous, have joined forces with the leading French feminist group "Dare to be feminist" to file the complaint. They argue the companies are breaking law telling contestants they have to be more than 5ft 5in tall, single and "representative of beauty." Contestants are also not allowed to gain weight, change their hair, have any tattoos or piercings other than their ears. The rules say contestants must not have had children and have never married. Previous aspiring beauty queens have been kicked out of the competition for acting "contrary to good morals, to public order or in the spirit of the contest, which is based on the values of elegance." The case will hinge on whether magistrates recognize Miss France contestants as de facto employees of the pageant and TV company. Despite this, the old-school beauty pageant, which sees women parade in swimsuits and ballgowns while answering questions about their personality, is still a popular feature on French TV, with the annual show regularly drawing in millions of viewers.
This contest is not fair!
The White House has cancelled their annual Christmas Pageant
In an official statement, they said the reason was because they couldn't find three wise men.
Miss America is canceling the swimsuit portion of the pageant to avoid women being "judged on their outward appearance." In other news, NASCAR is canceling driving in circles to avoid cars being "judged on their speed."
The guy sat next to me on the train pulled out a photo of his wife and said, "She's beautiful, isn't she?" I said, "If you think she's beautiful, you should see my girlfriend mate."
He said, "Why? Is she a stunner?" I said, "No, she's an optician."
"You're beautiful and I love you," I yelled as I stood alone on the cliff, and my echo replied, "I just want to be friends."
October 25th Birthdays
1990 – Mia Wasikowska, 1973 – Persia White, 1995 – Chloe Rose, 1984 – Katy Perry
1972 – Adam Goldberg, 1998 – Keean Johnson, 1972 – Craig Robinson, 1998 – Tyler Alvarez
Morning Motivator:
If we chase perfection, we can catch excellence.