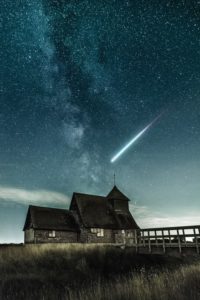 Many people across Western Canada reported seeing a shooting star cross the horizon. The fireball was a spectacular sight against the backdrop of a soaring mountain in British Columbia. Ruth Hamilton missed the first part of the show as she slept through the quiet night in her home. But Ruth was destined for fame, because that star wanted to be with her. Ruth was shocked awake by a crash above her bed and showered with dust from above. Confused, "I just jumped up and turned on the light, I couldn't figure out what the heck had happened," she told the Victoria News. After seeing the rock on her pillow, where she usually lays her head, she gathered herself and called the emergency 911. "I was shaking and scared when it happened, I thought someone had jumped in or it was a gun or something. It's almost a relief when we realized it could only have fallen out of the sky," she added. "I was in shock and I just sat here for a few hours shaking. The odds of that happening are so small so I'm pretty grateful to be alive." Ms. Hamilton said she plans to keep the rock as her grandchildren think it's pretty cool. She also says that the harrowing experience has given her a new perspective on life – life is precious and she does not want to take life for granted again."
Shooting Stars
Two Canadians are sitting outside watching the night sky.
When the first guy asks the other "If you had to be one star in the night sky, which one would you be, eh?"
The second guy thinks for a moment and says, "I'd probably be the brightest star in the sky."
To which the first guy quickly responds, "You can't be Sirius A!"
As I laid in bed looking up at the night sky, I pondered to myself…
What the hell happened to my roof?
The sky above looked ominous, so I asked Siri, "Surely, it's not going to rain again today?!"
It replied, "It is and don't call me Shirley!"
A blonde and a brunette are walking down the street when the brunette says, "Aww… look a dead bird." The blonde looks up at the sky and says, "Where?"…
October 13th Birthdays
1968 – Kate Walsh, 1959 – Marie Osmond, 1969 – Trisha Campbell Martin, 1977 – Kiele Sanchez
1941 – Paul Simon, 1962 – Jerry Rice, 1992 – Diego Dominguez, 1977 – Paul Pierce
Morning Motivator:
Gracefulness has been defined to be the outward expression of the inward harmony of the soul.