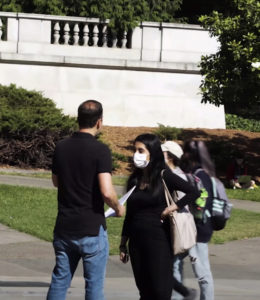 Ami Horowitz is kind of a video blogger and man on the street census taker. Recently Ami interviewed students at the University of California, Berkeley, to see if students would donate money to the Taliban to kill Americans. He started with the greeting: "We're raising money for the Taliban!" Horowitz is seen asking passersby. He thought everyone would avoid him or worse, but sadly he was not to be. He "educates" the students walking by." "We want to be able to train our fighters to strike back against American interests around the world and in the homeland," he says to one student. "There's a lot of weapons that were left there, we need money to train them how to use it against American forces," he informs another. "Before America got there, we (the Taliban-ISIS) used it as a base to strike against America, we want to do that again," he adds. "We need to strike back. America's destroying the world and we want to secure it for a strike against the American homeland." Many of them are caught on camera, saying, "That sounds great!," and "Appreciate what you're doing." One student even declared to Horowitz, "I would work for you." Students agreed to pledge between $5 and $50. "The majority of people who stopped and talked to me decided they'd give me money for this — to fund the Taliban and specific use of proceeds to kill Americans, and strike back at America, and fund a new 9/11 on the US homeland," Horowitz confirmed. "This is the most chilling video I've ever shot."
Begging for…
Two panhandlers meet after a long time and talk about their last year income
Guy 1: How did it go last year?
Guy 2: Pretty decent, I was able to purchase a two bedroom apartment, a Ferrari and furnish my house.
Guy 1: Whaaaaaat? How did you manage to do that, I have been on the streets 24×7 and have hardly managed to pay rent and look after my family?
Guy 2: What does your sign say?
Guy 1: No work, wife and 2 kids to support. What does your sign say?
Guy 2: "Need a few bucks to go back to my country."
Why do you beg on the street? The truth is I beg for money to get booze. And why do you drink then? It gives me the courage to beg for money.
The hobo's sat with their backs against a tree sucking up the warm sun light and watching the river roll by. One of them was upset. He complained. "You know this life of a hobo is not what it is cracked up to be. You know, nights on a park bench, chasing trains for rides, dodging police and mean kids and dogs, begging for food and money. Never knowing where your next meal would come from and being sneered at from men and women." His companion thought a minute and offered, "If it is bothering you so much, why don't you just settle down and get a job?" The first Hobo snapped to attention and said, "What and admit that I was a failure?"
What do you call those who beg for other people's money while trying to order them around?
Politicians
October 27th Birthdays
1997 – Samantha Logan, 1987 – Alba Flores, 1963 – Marla Maples, 1950 – Fran Leibowitz
1858 – Teddy Roosevelt, 1939 – John Cleese, 1949 – Bruce Springsteen, 1987 – Andrew Bynum
Morning Motivator:
You are the embodiment of the information you choose to accept and act upon.