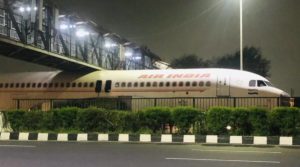 We have all had the experience of driving to a busy airport and seeing the traffic whizzing by on the freeway and on the access roads. You can imagine how surprised Rishabh Kumar was to see a full-size airplane coming down the access road next to the ramp he was on and then get stuck under a pedestrian bridge. He and a bunch of others sent pictures. The plane was full sized and looked very official and very lost. One wrinkle though after the initial shock, the 737 had no wings. The picture shows the nose of the aircraft and half of its body had made it through the space, however, the plane got stuck where the wings would normally attach. The plane did not get stuck taking the wrong runway. Actually, the plane had been decommissioned by the Air India and was sold for scrap. Unfortunately, the truck driver hauling the plane misjudged the space under the pedestrian bridge. This getting stuck is not that unusual, in 2019, a truck carrying an abandoned India Post aircraft got stuck under a bridge in West Bengal's Durgapur. Departure schedules were not affected by the incident, they were still late.
Wrong way, Corrigan
A 'good' landing is one you can walk away from. A 'great' landing is one after which they can use the plane again.
Learn from the mistakes of others. You won't live long enough to make all of them yourself.
A driver was stuck in a traffic jam on the highway outside Washington, DC Nothing was moving.
Suddenly, a man knocks on the window. The driver rolls down the window and asks, "What's going on?"
"Terrorists have surrounded the White House and they're asking for a $100 million dollar ransom.
Otherwise, they are going to douse them all in gasoline and set them on fire. We are going from car to car, collecting donations."
"How much is everyone giving?" the driver asks.
The man replies, "Roughly a gallon."
San Jose Tower: "American 751 heavy reduce your airspeed to make runway A-7."
The DC-10 had an exceedingly long roll out after landing with his approach speed just a "little" too high:
San Jose Tower: "American 751 heavy, turn right at the end, if able. If not able, take the Guadeloupe exit off Highway 101 and make a right at the light to return to the airport."
October 6th Birthdays
1990 – Scarlett Byrne, 1973 – Rebecca Lbob, 1970 – Amy Jo Johnson, 1964 – Elizabath Shue
1993 – Cameron Kennedy, 1846 – George Westinghouse, 1998 – Matt Cornett, 1992 – Reshon Fegan
Morning Motivator:
A calm sea does not make a skilled sailor.