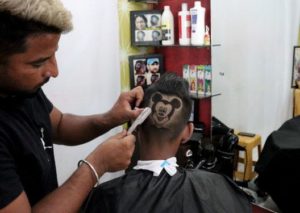 Brothers Rajwinder Singh Sidhu and Gurwinder Singh Sidhu in Dabwali, India are now famous in their small part of the world for giving haircuts with the images the customer's choose. From illustrations of the Taj Mahal, to a lifelike portrait of pop star Michael Jackson, the brothers use a range of trimmers, scissors and pencils, among other tools, to get every minute detail of hairdos artistically correct. "In the beginning we used to give anyone we could get hold of free haircuts so that we could practice our skills on them. Some days we used to practice till 2.00 a.m., because during the day we used to run the regular salon," Rajwinder told Reuters who provided the photos. These days the brothers charge between $20-$30 for their special hairdos and say they have plans to take their business outside of India as well. Requests for images of Bollywood stars, sportspersons and even Mickey Mouse, fill the brothers' salon with a steady stream of customers who want to draw attention to themselves at social gatherings or events.
Hairy humor
"Hey Dad, who invented the haircut?"
"I don't know, but I'm sure it was some barberian."
A man has a sore throat and goes to the doctor…
Doctor: "Your tonsils gotta come out."
Patient: "I want a second opinion!"
Doctor: "Okay, I don't like your haircut."
I've gotten a new haircut recently.
At first, I felt like it was too short, but I gotta say that it's starting to grow on me.
"Love me do" was written by John Lennon…After he got a really nice haircut.
 October 22nd Birthdays
1989 – Manon Matthews, 1966 – Valerie Golino, 1943 – Catherine Deneuve, 1979 – Eve Chalom
1976 – Jesse Tyler Ferguson, 1948 – Christopher Lloyd, 1991 – Jonathan Lipnicki, 1982 – Heath Miller
Morning Motivator:
The capacity to care is the thing which gives life its deepest significance.